TAX DOLLARS CAN CHANGE A STUDENT'S LIFE
New Way participates in the Arizona School Tuition Tax Credit through our School Tuition Organization, Financial Assistance for Independent Schools. FAIS was established specifically for New Way to provide tuition assistance for students in financial need. Because many individuals contribute to this fund, even a little gift makes a BIG difference. 
For the 2022-2023 school year, over one-third of our student population applied for financial assistance through FAIS. The average gift awarded was just over $6,000 (approximately 25% of annual tuition). This year, FAIS was able to award nearly $500,000 in tuition assistance because of our generous corporate and individual tax credit donors. 
Your contribution to FAIS as part of the Arizona Private School Tax Credit Program provides a dollar-for-dollar credit on your Arizona state income tax filing.
The deadline to contribute a tax credit donation for the 2023-2024 school year is Monday, April 15th, 2024. 
There are three easy steps to help students benefit from a New Way education through your tax credit donation:
1 – Donate online by April 15th, 2024 by clicking the link below. Or mail a check made payable to FAIS to 5048 E. Oak Street, Phoenix, AZ 85008. 
2 – Financial Assistance for Independent Schools (FAIS) will send you a receipt for your contribution. Save this with your tax documents.
3 – File your taxes! Complete AZ Forms 323 and 348 to claim your Private School Tax Credits.
Receive your refund, and/or pay your tax liability knowing that your tax dollars were allocated directly to New Way students! 
Limits for 2023: 
$2,609 for married couples filing jointly
$1,307 for individuals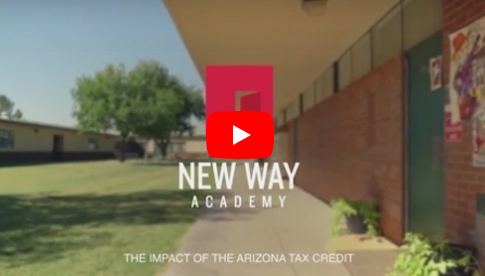 DISCLAIMER:
A School Tuition Organization (STO) cannot award, restrict or reserve scholarships solely on the basis of a donor's recommendation. A taxpayer may not claim a tax credit if the taxpayer agrees to swap donations with another taxpayer to benefit either taxpayer's own dependent. FAIS does not discriminate against any person due to color, race, religion, national origin, disability or gender.
The information contained on this page is not intended to offer taxpayers legal or tax advice. Always consult a tax professional regarding your tax situation. For more information contact the Arizona Department of Revenue at 602-255-3381.