Engage. Enrich. Empower.
Why Support New Way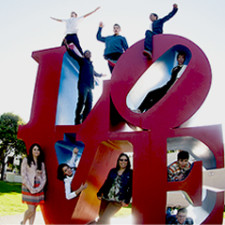 Since 1968, New Way Academy has provided a unique learning environment for students with learning challenges . For over 50 years, our community has truly evolved to support a New Way Student who is:
Engaged – at home, in school, and amongst their community. 
Enriched – with tools, strategies, resources, and self-awareness to become confident and capable adults. 
Empowered – to learn, to self advocate, and to stand for their beliefs. 
It takes a committed team to provide the academic, social-emotional, and extracurricular opportunities to serve every child as they strive to reach their full potential. That's why we ask for the support of our families, community partners, board members, and staff to join us in supporting our mission to provide a transformative education for students with learning differences. We know that – with the right support – New Way students graduate as confident and capable learners, prepared for diverse post-secondary settings.   
Many find it surprising to learn that tuition dollars do not fully cover the cost of providing the customized education that New Way offers our students. As a result, we must offer opportunities throughout the year to bolster our funding and cover the gap between what tuition provides and the funds needed to operate our school.
We invite families to support our school at a level that is comfortable for them. Each year, we ask for financial support through the following opportunities: 
Annual Bulldog Campaign:


This is our annual appeal for unrestricted funds at the beginning of the year. The ABC is arguably our most important campaign, as it provides the funding we need for operational expenses such as campus repairs, technology updates, classroom materials, and more.




 

Individual and Corporate Tax Credit:


The Tax Credit opportunity is a great way to support New Way without any impact to your individual budget. Each donation is filed through our School Tuition Organization, Financial Assistance for Independent Schools (FAIS), and allows you to reallocate where your state tax dollars go at the end of each year.

Auction and Gala:


Each spring, we offer a fun opportunity to dress up, connect with other families, and raise dollars for a good cause. Each year, we host a formal dinner in addition to a live and silent auction, wine pull, branded merchandise table, and more. There's truly something for everyone at this memorable event!




 

Special Events and Bulldog Blitz :


Each year, student groups are engaged in community service projects. Don't be surprised if you're asked about donating used clothing, purchasing a gallon of lemonade, or attending an event with ticket proceeds to benefit a great cause! The collaborative efforts and altruistic nature of our students each year is always a pleasure to facilitate as they make an impact in their community.




 
We are excited to share how your dollars are put to work for our students – THANK YOU for supporting New Way! 
I am awed by the spirit of New Way. Everything inspires me! The view, the organization, the respect for one another.
-Visiting Teacher