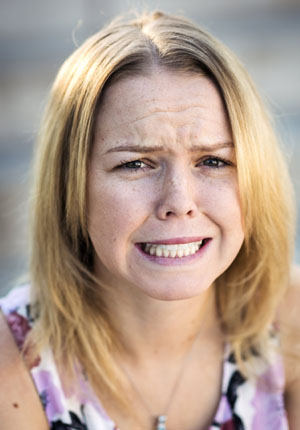 Ms. Towler began her career at New Way as a student teacher, we think. She was on campus a lot that initial year, though no one quite remembers an initial interview. But it luckily worked out, as she now officially works for New Way Academy as the Official Bulldog – she is the only adult small enough on campus to fit inside our mascot costume.
And though sometimes mistaken as a well-dressed high school student, she perseveres to be an enthusiastic teacher for her lower school students who happen to be struggling with reading comprehension, executive function, writing, and homeroom challenges.
An interesting fact about her room is that the air conditioning is awful. Even the IT guy, who really knows some things about what hot is, has installed multiple fans, but now refuses to go in there and demands any IRL meeting takes place halfway between their respective offices.
Off-campus, Amanda enjoys living in a residential unit across from the Cub's spring training facility. In fact, a friend of the school who lives in the area may have whispered to us the complex she resides in is famous for the parties, and they are affectionately termed the "Party Condos". That same friend went to the Party Condos once to borrow some butter, but all she could find was '"Party Butter" at every place: butter with hair in it, butter in cola bottles, and butter that looked clean but had a post-it note on it that read 'Butt Butter'. Amanda also likes to play soccer, listen to EDM music, and do dog things with her Schnauzer.